Online Guitar Lessons for Kids
Beginner Guitar Songs for Kids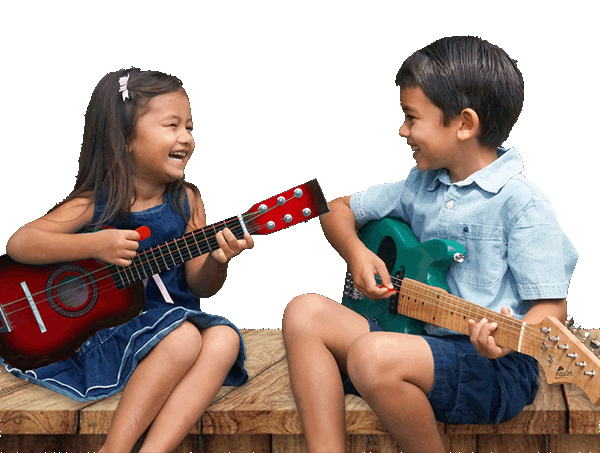 Best Age to Start Kids Guitar Lessons
These online guitar lessons for kids are not only designed for children but will work for anyone even adults!  They are basic & easy lessons to follow.
What is the best age to start guitar lessons? Actually more important then the age is how motivated is the child in learning how to play guitar? I believe these videos will bring excitement for anyone to start their journey in learning easy beginner guitar lessons for kids. The awesome thing about this videos is they can be played over and over again which is the essential step in learning beginner guitar songs for kids. 
There is no better way of illustrating lessons  than using videos to  teach kids how to learn.  Learning guitar through videos is easier & more enjoyable than learning through a book. These online guitar lessons for kids create a sense of presence which supports the memory in kids.  If a child forgets any of the songs they have learned, they can easily repeat any of the simple guitar songs for kids. 
I remember one of my professor from college.  She would repeat everything she taught three times.  She said, "Makes no difference that you all adults. The best way for your to learn is the say way as kids.  That is why I am repeating everything three times!"   Honestly, her method work because of repetition.  The beautiful thing about these online guitar lessons for kids, they are repeated.  Each song is played twice.  First time slowly and the second time quicker to help the child grasp the lesson better.  Videos can be played over and repeated as many times as you would like which is great for beginner guitar songs for kids.
Before I address this question, I would like to mention that any type of guitar you have will work work fine for these online guitar lessons for kids.  If you already have a guitar. I advise the child to try using that guitar before a possible "upgrade" in the future.  However, if you do not yet have a guitar, I could give you some recommendations. I have bought so many guitars for students and I have had my fair share of some bad purchases. There are electric, acoustic, and classical guitars.  These three types of guitars all have their advantages and disadvantages. I would personally purchase an acoustic or classical guitar since it is easiest to use out of the box.  You do not a amp for it and it is guitar pick friendly.  Classical guitar will work fine too but isn't designed to be strum with a pick.  For the price I would recommend "first act" guitar. You can purchase this at Walmart or Amazon for a good deal.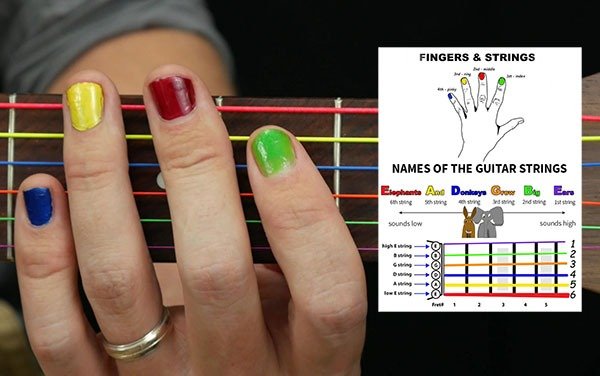 Kids love color and that is implement into all the kids guitar lessons. Two things were done to make these videos easier for the kids to see.  First, the guitar strings are in color so it is easy to see which strings are being played. Second, the finger nails are in color to give another visual aid in seeing how to play guitar chords and tabs.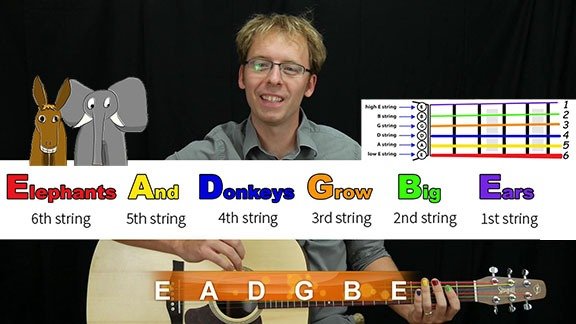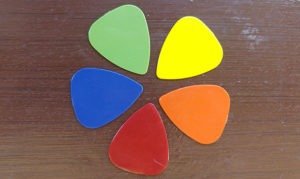 One thing I learned through teaching guitar: you can never have enough guitar picks! In this fun lesson, your child will learn how to make their own guitar picks. Unless you are learning fingerstyle guitar lessons, you will at least need a few guitar picks.
No Need to Purchase a Guitar Tuner
One of the most important steps in learning how to play the guitar is learning how to tune a guitar.  If the guitar is not in tune then no matter how well you play, it will not sound good. With technology today, it is very easy to tune your guitar just using a phone, tablet, or even a computer.  I will also advise the best to tuner to buy at a very reasonable price that will make it even easier for kids to tune their guitar. Tuning is one of the most important steps to towards online guitar lessons for kids. You won't be able to start playing the guitar without first learning how to tune a guitar.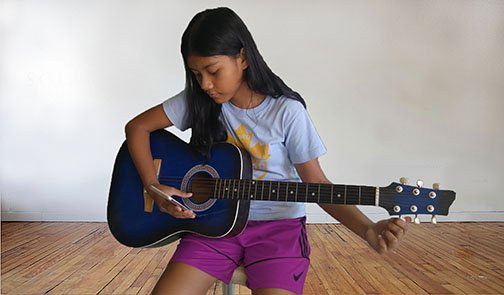 Introduces Different Strumming Patterns for Guitar
Once kids learn how to play guitar chords, it is very important for them to learn guitar strumming exercises.  This can be very frustrating if you are just starting with the guitar.  Most of the online guitar lessons kids use chords in the songs  has guitar strumming exercises introduced in the lesson. Having different strumming patterns for guitar in each song, will show every child how to improve guitar strumming  without feeling overwhelmed.  These are easy guitar songs with strum patterns. 
There is a special lesson dedicated to teaching kids how to play guitar chords and read tabs. The chord diagram shows step by step where to place your fingers on the fretboard and what strings to press down. For the tabs the same process is taught as the chords along with learning one of the easiest songs for tabs. The image to the right is showing how to play the A2 guitar chord which is one of the easiest chords for kids to learn.  They will be learning the five most important chords for guitar which will give them the ability to play many different popular songs for kids they enjoy listing to today.  Along with learning tabs, the possibilities are endless for a children to learn how to play guitar chords plus beginner guitar songs for kids.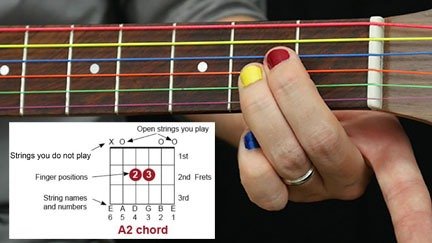 Instead of "Sing Along" - Let's Play Along!
Every guitar song taught in these videos that introduces chords has a "play along" video that kids can enjoy playing the guitar along with.  There are many videos designed for kids to "sing along" but these videos are different. They are designed for your child to play the guitar along while someone is singing in the background.  This is a great way to encourage your child to keep practicing each kids guitar lesson.  Also each song has a "slow" and "fast" time to help the child gradually practice up to spend.  The video to the right is a demo of Twinkle, Twinkle, Little Star with guitar chords sheet music animated. These play along videos are a great way to learn all the simple guitar songs for kids taught in these lessons.
Save Over 35% today and buy the whole lesson package!
Online Guitar Lessons for Kids
Online Guitar Lessons for Kids | Beginner Guitar Songs for Kids            JamGuitar.com © 2018 Copyright.