Six Steps to Easy Kids Piano Lessons
In this short read, I will provide six steps to easy kids piano lessons in learning how to play beginner piano.  The first steps are very basic but important for the child to gain a visual understanding of music before learning the piano.   These easy kids piano lessons will get your child ready to learn music and then step into learning the piano / keyboard.
1. Picking the Best Piano or Keyboard for Kids
With so many decisions in picking the best piano it can seem over whelming to pick the right piano or keyboard.  I would personally recommend a keyboard over an acoustic piano for one simple fact – you don't need to worry about tuning!  That is a big deal because the cost to the tune an acoustic piano can be over $100.  On craigslist you can usually pick up an acoustic piano for free. If the acoustic piano is in tune it could be a great deal ( How can you beat free?)  But make sure the piano is in tune.  Also it can be a huge job to pickup the piano because of the weight.  Personally I would recommend a mini keyboard to start.  This way the kids can carry it around. In the picture above is a picture of a Full Size 88 key Casio Privia and on top of that a Casio SA-76
I would recommend buying this keyboard for your kids if you don't have an instrument already.  Since the keys are smaller it will make easy piano lessons for the future of your child's learning this awesome musical instrument.
2. Studying the Musical Alphabet
The standard musical alphabet is 26 letters long; however, for the musical alphabet it is only 7 letters long that keeps repeating itself.  If you start with the letter A it only goes to letter G and not to H.  However, it will repeat back to letter A and this time is an octave higher. It is a good idea to memorize the musical alphabet to be ready for easy kids piano lessons.  The image above shows what happens with the musical alphabet going up and down.
3.Learning the Musical Notes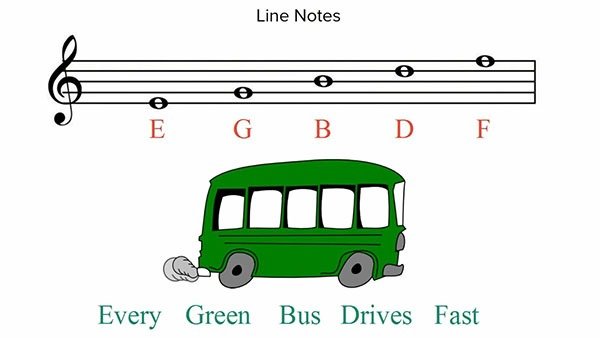 Space Notes & Line Notes

Treble Clef & Bass Clef
To gain an understanding of reading musical notes it is important to look at space notes and lines notes.  There are 4 space and 5 line notes.  When you first start learning easy kids piano lessons, you will first most likely just start with the Treble Clef.  This is the best place to start and is almost always using your right hand.  After you learn the notes to the treble clef for both the space and lines notes then you can go into learning the Bass Clef.  There is a fun animated music lesson that covers the musical alphabet, musical notes, and much more.
4. Counting with Clapping
One of the best ways to count is with clapping.  This helps kids keep a "rhythm  to the beat" while learning the song.  I would first start with counting just to 4 going like 1, 2, 3, 4.  Than progressing to 1 & 2 & 3 & 4 &
5. Learning Mary had a little Lamb for Piano
This video is of my daughter playing "Mary Had a Little Lamb."  This is one of first songs that you will learn.  I highly recommend learning this song as one of your first songs for beginner piano / keyboard since the fingering and rhythm are easy to follow.  Learning this song is the beginning of your journal towards easy kids piano lessons.
6. Practicing little and often is the secret to easy kids piano lessons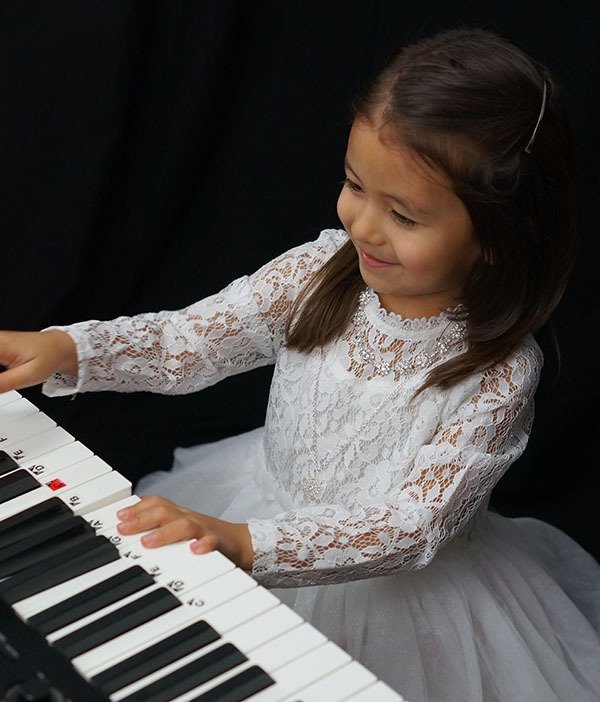 Rather than practicing a lesson for a full half of hour, it is best to split those 30 minutes of beginner piano lessons to three times in a day.  If three times is too much, then dividing the whole kids piano lesson to two times a day would work fine too.  With my daughter she can only handle a 5 minute piano lesson. Again for best results with kids piano lessons is  to have several quick practice sessions rather than one long beginner piano lesson.
Also don't forget to have fun while you are playing the piano!
Every easy kids piano lesson needs to focus on being exciting.  Sometimes they won't be serious and that is okay because they are just kids!