| | |
| --- | --- |
| | |
| | The Whole Package! Five DVDs & Three Books - Plus Bonus! |

For only $29.95, you will receive over 9 hours of guitar lessons on four DVDs! Including over 165,000 guitar tabs on DVD including three guitar books! Plus bonus book included!
That's a total savings of $32.65!
Click here for higher quality sample video
Included in Package:
FIVE GUITAR DVDS
Learning Guitar DVD which gives step by step instructions in how to play the guitar from learning how to read tabs, basic chords, bar chords, lead guitar, and much more! Plus learn 13 of the most popular songs for guitar!

Blues Guitar DVD is the newest DVD in our collection. It teaches different styles of blues including the popular 12 bar blues! Plus a visual guitar fretboard to see exactly what frets and strings are being played.

Advanced Guitar DVD dives into unique guitar techniques and tunings used for guitar. You will learn slap harmonics with unique tunings plus different tricks techniques rarely seen on guitar.

Christmas Guitar DVD is the perfect DVD to get ready for the Holiday Season! This DVD covers basic fingerstyle exercises, reading tabs, rhythm, and over 10 popular Christmas Songs!

Guitar Tablature DVD which has over 165,000 tabs! You will never run out of songs to play! Not only can you print these tabs but you can also view video files of the tablature being played right before your eyes!
THREE GUITAR BOOKS + BONUS BOOK!
Lead Guitar Tactics: Do you sometimes wonder if you will ever be able to play lead guitar? Now you can with Lead Guitar Tactics! Included with the book are over 25 audio samples.

Beginners Guide to Playing the Guitar: This book explains everything you need to know about tuning, positioning of your hands, tuning your guitar, playing notes and cords, scales and playing your first song!

How to Play the Guitar Like a Pro: This guide will give you the skills to play for yourself or even become the life of a party! Discover the guitar as your passion and learn a skill you can enjoy the rest of your life!
Bonus Book Included!

Guitar Chords And Scales
This book will show you how to play Major, Minor, and Seventh guitar chords. There are diagrams for 42 popular guitar scales including Major, Pentatonic Major, Blues Major, Minor, Pentatonic Minor, and Blues Minor scales.
Click here for more info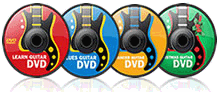 Learn how to play the guitar fast
along with the songs you love on DVDs!





I have been an avid player and guitar builder for over 25 years and play professionally in a traveling rock/country band. I have over the years been asked "teach me to play" by alot of people. In that time i have found that "teaching " guitar , for me, is about one hundred times harder than playing guitar or even learning guitar on your own, as I did. I have been successful on a few occasions , but unsuccessful on many more. I watched all 4 of the videos I purchased from you, Just to see what I had paid for. These are absolutely great for the teaching of a beginner student, they cover alot of things an already knowing guitarist would forget to tell a beginner. I am very impressed and am letting my 5 yr old son watch them and pick up the info without me making him feel pressured with lessons from me. After he has developed some knowledge and most importantly, Interest , I will follow up in the teaching. Thanks.


Thomas Reynolds

Click here for more Testimonies!