Guitar Lessons Samples from DVDs

Lesson Sample taken from Learn Guitar DVD teaching the first two measures of the song "House of the Rising Sun"

Lesson Sample taken from Blues Guitar DVD teaching the first two measures of the song "Single String Shuffle"

| | |
| --- | --- |
| | |
| | Guitar Lessons Article Database |

We have a very large database of guitar lessons for you to enjoy reading. Our guitar articles cover almost everything there is to know about guitar! Please visit our blog to find out more!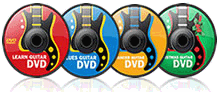 Learn how to play the guitar fast
along with the songs you love on DVDs!





I have been playing the guitar for approximately two years before I purchased this Guitar DVD set. During those two years I have used numerous books and videos to assist in the learning process. These videos were by far the best and at a tremendous value. I was considering weekly lessons at $15 for 30 minutes. With these DVDs, I have a years worth of lessons for the price of one lesson and took my guitar skills up a couple levels. I knew I was getting better when I was playing an Eric Clapton CD and my nine year old daughter heard it and said "Dad's getting good on the guitar". These DVDs are great for beginners and intermediate guitar players. Five Stars for Evan, I can't wait until the next DVD comes out!


Bob Schroeder

Click here for more Testimonies!