Learn Guitar DVD is great video for someone new who has never touched the guitar. You will learn everything from strumming, soloing & lead guitar, changing strings, tuning, chords, reading tablature and a collection of thirteen popular songs from your favorite artists!
Learning Guitar DVD Covers:
Guitar Theory: Analyzing the guitar fretboard on how it works. How scales are formed on the guitar.
Basic Chords:
Major chords: A,E,D,G,C,F,B, minor chords: Am, Em, Dm, Fm, Bm, and dominate seventh chords: A7, E7, D7,G7, C7.
Bar Chords:
Six string and five string bar chords plus power chords!
Lead Guitar:
Scale examples plus basic and advanced techniques: speed and note variation, patterns, rhythm, harmonics, and double stops. You will also receive one of the songs in mp3 audio format so you can solo without having the DVD running.
Songs:
You will be learning some of the greatest songs known for guitar! Starting from very easy songs that only required two to three chords to more advanced songs. Each song is design to help build your guitar skills as you progress through the DVD.
Horse with no Name, House of the Rising Sun, Good Riddance (Time of your Life), Sweet Home Alabama, Smells like teen Spirit, Smoke on the Water, Stairway to Heaven, Sweet Child O' Mine, Tears in Heaven, Back in Black, Daytripper, Yesterday, and Happy Birthday (13 Songs Total!).
Included with this DVD are 14 pages of tablature & exercises which are accessible & printable online. You will also receive "House of the Rising Sun" in mp3 audio format so you can solo without having the DVD running!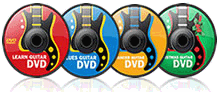 Learn how to play the guitar fast
along with the songs you love on DVDs!





I bought this DVDs because I have three kids and no time to travel to lessons. This is really convenient for me. The instructor is easy to follow and understand. This is a great deal and easy to follow lesson's in the privacy of my own home. I have always wanted to learn and my kids are amazed when they see how fast I am picking this up. My oldest son wants to learn to play now also and for no extra cost he can. I am really happy with these lessons and look forward to future products from this company!


Scott Andrade

Click here for more Testimonies!