| | |
| --- | --- |
| | |
| | Lead Guitar Tactics - How to Play Lead Guitar |

Are you trying to play lead guitar and experiencing only frustration and confusion?
(Does it make you want to break your guitar in half?)
Do you sometimes wonder if you will ever be able to play lead guitar?
You hear your favorite guitarist ripping it up but when you try it on your own you don't have a clue where to begin. And to make matters worse you see all kinds of crazy claims on the internet telling you that you can learn the entire fretboard in 60 minutes, or play guitar like a pro in 7 days.
Quite frankly, I'm tired of all these false promises. I'm tired of the latest whiz bang guitar guru who has probably never taught a lesson in his life and his course promising to get you massive results, but don't really do squat. I'm tired of all the fake, over-inflated claims by every new whiz kid on the block.
I'll bet you are too. So I decided to do something about it. And I'm going to let you in on what it really takes to play lead guitar in my new special report.
Lead Guitar Tactics
What it really takes to play lead guitar like a pro
So what is a secret. Here is a definition from the dictionary.
Secret - A method or formula on which success is based.
Not very exciting is it? Certainly not what all of the gurus would have you think. In fact, the biggest secret is not really a secret at all and I'm going to give it to you right now. How do you learn to play killer lead guitar?
One word.practice!
If you are not willing to put the time and effort into learning the guitar, it ain't gonna happen, no matter what kind of wild promises other people are willing to make. I have been playing guitar for 40 years and teaching for 28 years. There is no magic pill for success. Only practice will get you where you want to go. But not just any kind of practice. You have to know what to practice and how to practice.
Remember our definition of secret from above.A method or formula on which success is based. I have drawn from my own experience in learning the guitar and the experience I have gained from teaching others to put together a method for learning to play lead guitar that truly works. Does it take effort? You bet it does. Is it worth it? Most definitely!
You see, the quickest way to success is to follow a system. Now you can take the time and effort to develop your own or you can follow in the footsteps of someone that has been there before you. In my special report Lead Guitar Tactics I am going to share with you the path to lead guitar playing success that has been proven and tested in lessons with over 1200 students.
Here's just some of what you will learn in Lead Guitar Tactics
• You will learn all five commonly used fingerings for the pentatonic scale. Why the pentatonic scale? Because it's the easiest scale to learn to play and use when creating your solos on the guitar.
• How to link the five different fingerings together to play the entire length of the fretboard.
• Patterns, also known as melodic sequences. These powerful tools are a must to practice if you are even halfway serious about learning to play lead guitar.
• A powerful exercise to help you master bending, one of the staple techniques of blues and rock guitar playing.
• Examples of some of the most common and classic rock and blues licks that you can incorporate into your own playing immediately to get you started on the road to playing lead guitar.
• Six different tips to help you easily create your own licks.
• How to add one note to the pentatonic scale to change it into the blues scale. This scale has been used by players through the years from Page to Clapton to Beck up to more recent players like Stevie Ray Vaughn, Joe Satriani And Steve Vai.
• What passing tones are and how to use them to really add spice to your solos.
• And much more.
My goal was to pack this special report with everything you need to get started playing lead guitar as soon as possible. All you need is here, you just have to put in the time and practice to make it happen. You can be certain that every technique in this report, when put into action will put you on the road to playing great lead guitar.
Think I'm through yet? Not by a long shot. Because when you order your copy of Lead Guitar Tactics, you'll also get.
Two valuable bonuses absolutely free!
Bonus #1 - "The 7 Most Common Mistakes Made When Learning The Guitar And How To Avoid Them"
Through my years of teaching I have discovered 7 common mistakes made when learning the guitar. When you know what they are and how to correct them, it is possible to learn the guitar with less effort and more speed. Don't underestimate the value of the lessons in this report.
Bonus #2 - "mp3 files of each and every example Lead Guitar Tactics"
Click Here for another sample guitar riff!
With these files you will be able to hear each and every example so you will know how they are supposed to sound. When you have these down and can use them in your solos you will have greatly expanded the variety of licks available for your use.
In Conclusion, Lead Guitar Tactics, you will be given a set of extremely simple but powerful instructions you can use right away to start playing the guitar. You'll see how your practicing becomes much more effective and you'll see results from these simple tweaks in your practice strategy.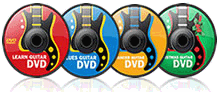 Learn how to play the guitar fast
along with the songs you love on DVDs!





I have been an avid player and guitar builder for over 25 years and play professionally in a traveling rock/country band. I have over the years been asked "teach me to play" by alot of people. In that time i have found that "teaching " guitar , for me, is about one hundred times harder than playing guitar or even learning guitar on your own, as I did. I have been successful on a few occasions , but unsuccessful on many more. I watched all 4 of the videos I purchased from you, Just to see what I had paid for. These are absolutely great for the teaching of a beginner student, they cover alot of things an already knowing guitarist would forget to tell a beginner. I am very impressed and am letting my 5 yr old son watch them and pick up the info without me making him feel pressured with lessons from me. After he has developed some knowledge and most importantly, Interest , I will follow up in the teaching. Thanks.


Thomas Reynolds

Click here for more Testimonies!