| | |
| --- | --- |
| | |
| | Guitar Chords And Scales - Bonus Book! |

Get started playing guitar with this detailed guitar chord and scale book.
This book will show you how to play Major, Minor, and Seventh guitar chords.
Each chord is shown at three different positions on the guitar neck, for a total of 108 chords.
A chord explanation chart is provided.
Next there are diagrams for 42 popular guitar scales including Major, Pentatonic Major, Blues Major, Minor, Pentatonic Minor, and Blues Minor scales.
Scale study is essential for improvising, soloing and composing.
Last but not least this book will show you some very common strumming patterns.
The book contains 47 pages.

Below are a few screen shots from this guitar book.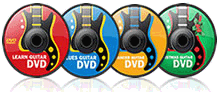 Learn how to play the guitar fast
along with the songs you love on DVDs!





I have been an avid player and guitar builder for over 25 years and play professionally in a traveling rock/country band. I have over the years been asked "teach me to play" by alot of people. In that time i have found that "teaching " guitar , for me, is about one hundred times harder than playing guitar or even learning guitar on your own, as I did. I have been successful on a few occasions , but unsuccessful on many more. I watched all 4 of the videos I purchased from you, Just to see what I had paid for. These are absolutely great for the teaching of a beginner student, they cover alot of things an already knowing guitarist would forget to tell a beginner. I am very impressed and am letting my 5 yr old son watch them and pick up the info without me making him feel pressured with lessons from me. After he has developed some knowledge and most importantly, Interest , I will follow up in the teaching. Thanks.


Thomas Reynolds

Click here for more Testimonies!