Christmas Guitar DVD explores the holiday season using fingerstyle guitar. Not only will you be learning some very popular Christmas songs, but also exploring how to play fingerstyle guitar. This DVD covers basic fingerstyle exercises, reading tabs, rhythm, and over 10 Christmas songs!
Christmas Guitar DVD Covers:
How to Read Tablature:
Learn how to read tabs along with reading key signatures, different types of notes & rests (quarter notes, 8th notes, etc.).
Rhythmn:
Each song is play at regular speed and a slower speed. Metronome beats are included with the songs at normal and slow speeds so you can easily follow along.
Fingerstyle Technique:
It doesn't matter if you only know how to play guitar with a pick. Through all the Christmas songs taught in this DVD, you will learn the steps to learning fingerstyle guitar from beginner to advanced.
Songs:
Silent Night, Away in a Manger, We Wish you a Merry Christmas, O Come All Ye Faithful, The First Noel, Deck the Hall, Greensleeves (What Child is This?) God Rest Ye Merry Gentlemen, Carol of the Bells, Joy to the World, Hark the Herald Angels Sing. (11 Songs Total!)
Included with this Christmas DVD are 9 pages of tablature & exercises which you can access & print online. This DVD also includes metronome samples with each song.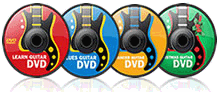 Learn how to play the guitar fast
along with the songs you love on DVDs!





I bought this DVDs because I have three kids and no time to travel to lessons. This is really convenient for me. The instructor is easy to follow and understand. This is a great deal and easy to follow lesson's in the privacy of my own home. I have always wanted to learn and my kids are amazed when they see how fast I am picking this up. My oldest son wants to learn to play now also and for no extra cost he can. I am really happy with these lessons and look forward to future products from this company!


Scott Andrade

Click here for more Testimonies!