Christmas Guitar DVD explores the holiday season using fingerstyle guitar. Not only will you be learning some very popular Christmas songs, but also exploring how to play fingerstyle guitar. This DVD covers basic fingerstyle exercises, reading tabs, rhythm, and over 10 Christmas songs!
Christmas Guitar DVD Covers:
How to Read Tablature:
Learn how to read tabs along with reading key signatures, different types of notes & rests (quarter notes, 8th notes, etc.).
Rhythmn:
Each song is play at regular speed and a slower speed. Metronome beats are included with the songs at normal and slow speeds so you can easily follow along.
Fingerstyle Technique:
It doesn't matter if you only know how to play guitar with a pick. Through all the Christmas songs taught in this DVD, you will learn the steps to learning fingerstyle guitar from beginner to advanced.
Songs:
Silent Night, Away in a Manger, We Wish you a Merry Christmas, O Come All Ye Faithful, The First Noel, Deck the Hall, Greensleeves (What Child is This?) God Rest Ye Merry Gentlemen, Carol of the Bells, Joy to the World, Hark the Herald Angels Sing. (11 Songs Total!)
Included with this Christmas DVD are 9 pages of tablature & exercises which you can access & print online. This DVD also includes metronome samples with each song.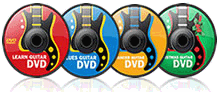 Learn how to play the guitar fast
along with the songs you love on DVDs!





I have been an avid player and guitar builder for over 25 years and play professionally in a traveling rock/country band. I have over the years been asked "teach me to play" by alot of people. In that time i have found that "teaching " guitar , for me, is about one hundred times harder than playing guitar or even learning guitar on your own, as I did. I have been successful on a few occasions , but unsuccessful on many more. I watched all 4 of the videos I purchased from you, Just to see what I had paid for. These are absolutely great for the teaching of a beginner student, they cover alot of things an already knowing guitarist would forget to tell a beginner. I am very impressed and am letting my 5 yr old son watch them and pick up the info without me making him feel pressured with lessons from me. After he has developed some knowledge and most importantly, Interest , I will follow up in the teaching. Thanks.


Thomas Reynolds

Click here for more Testimonies!