Blues Guitar DVD is the newest DVD added to our collection. It uses different camera angles to demonstrate both hand positions. Along with a visual guitar fretboard to see exactly what frets and strings are being played. The video sample below is a demo of one of the songs taught on the DVD.
12 Bar Blues:
Learn three different songs using the popular E, A, and B chords implementing different styles of the 12 Bar Blues.
Vibrato & Bending:
Learning popular blues bar chords with riffs along with vibrato, bending plus percussion!
Fingerstyle Technique:
In two of the songs, you will be learning the proper way to play fingerstyle guitar or some call it finger picking.
Counting & Rhythm:
Discovering different types of rhythm along with note durations. Learning how many counts are given for each measure along with how many counts each note receives.
Songs:
No matter if you are a beginner or immediate player, the songs are designed to start off easy and gradually get harder as you move through the DVD. The video below has a demo of the first song you learn which only uses one string at a time. (Over 10 Songs!)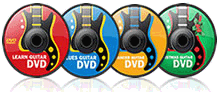 Learn how to play the guitar fast
along with the songs you love on DVDs!





I have been playing the guitar for approximately two years before I purchased this Guitar DVD set. During those two years I have used numerous books and videos to assist in the learning process. These videos were by far the best and at a tremendous value. I was considering weekly lessons at $15 for 30 minutes. With these DVDs, I have a years worth of lessons for the price of one lesson and took my guitar skills up a couple levels. I knew I was getting better when I was playing an Eric Clapton CD and my nine year old daughter heard it and said "Dad's getting good on the guitar". These DVDs are great for beginners and intermediate guitar players. Five Stars for Evan, I can't wait until the next DVD comes out!


Bob Schroeder

Click here for more Testimonies!