Blues Guitar DVD is the newest DVD added to our collection. It uses different camera angles to demonstrate both hand positions. Along with a visual guitar fretboard to see exactly what frets and strings are being played. The video sample below is a demo of one of the songs taught on the DVD.
12 Bar Blues:
Learn three different songs using the popular E, A, and B chords implementing different styles of the 12 Bar Blues.
Vibrato & Bending:
Learning popular blues bar chords with riffs along with vibrato, bending plus percussion!
Fingerstyle Technique:
In two of the songs, you will be learning the proper way to play fingerstyle guitar or some call it finger picking.
Counting & Rhythm:
Discovering different types of rhythm along with note durations. Learning how many counts are given for each measure along with how many counts each note receives.
Songs:
No matter if you are a beginner or immediate player, the songs are designed to start off easy and gradually get harder as you move through the DVD. The video below has a demo of the first song you learn which only uses one string at a time. (Over 10 Songs!)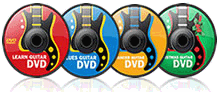 Learn how to play the guitar fast
along with the songs you love on DVDs!





I have been an avid player and guitar builder for over 25 years and play professionally in a traveling rock/country band. I have over the years been asked "teach me to play" by alot of people. In that time i have found that "teaching " guitar , for me, is about one hundred times harder than playing guitar or even learning guitar on your own, as I did. I have been successful on a few occasions , but unsuccessful on many more. I watched all 4 of the videos I purchased from you, Just to see what I had paid for. These are absolutely great for the teaching of a beginner student, they cover alot of things an already knowing guitarist would forget to tell a beginner. I am very impressed and am letting my 5 yr old son watch them and pick up the info without me making him feel pressured with lessons from me. After he has developed some knowledge and most importantly, Interest , I will follow up in the teaching. Thanks.


Thomas Reynolds

Click here for more Testimonies!