At JamGuitar.com we believe we offer the best price for guitar lessons on DVD. We recently just produce a new Blues Guitar DVD. It features two camera angles instead of just one. With the Christmas Season it is a great time to buy these DVDs! It could be for someone that wants to learn guitar or improve there guitar skills. We hope you will pick up skills from our videos that will help you learn guitar and the songs you love.

A word from the Author:

Hello my name is Evan O'Hara and I have been playing guitar for about 10 years. In my music studio, I charge my students 30 dollars for one hour private lesson. Private lessons are great way to learn guitar; however, they require a lot of money and time. Usually the parents have to take time out of their day to travel to the music studio plus wait for their daughter or son as the lesson is given. Most of my students have 4 lessons a week which adds up to 120 dollars a month. In a given month one of my students receives 4 hours of lessons which is equivalent to the lessons given on two of my DVDs. A 2 hour DVD only cost 10 dollars while private lessons would cost 60 dollars. I believe private lessons are not as cost efficient as lessons from a video. One of the major problems with private guitar lessons is the students would come back the next week forgetting what I taught the previous week. Sometimes the parents were discouraged with the amount of money they were spending. A one hour lesson each week is not an adequate amount of time to cover guitar well. One of the major advantages of having a guitar lessons on video is repetition. In order for someone to learn a skill well it needs to be repeated. A video allows the students to watch the lessons over and over again. Especially if a student is struggling he or she is able to go back and rewatch the lesson until they learn it well. Through making guitar lessons on DVD it gives a chance for students to retain the information more efficiently and also spend less money. I am selling over 9 hours of guitar lessons on 4 DVDs for only $29.95 with many extras! Considering private lessons would cost over 250 dollars, this is an incredible deal!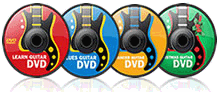 Learn how to play the guitar fast
along with the songs you love on DVDs!





I have been playing the guitar for approximately two years before I purchased this Guitar DVD set. During those two years I have used numerous books and videos to assist in the learning process. These videos were by far the best and at a tremendous value. I was considering weekly lessons at $15 for 30 minutes. With these DVDs, I have a years worth of lessons for the price of one lesson and took my guitar skills up a couple levels. I knew I was getting better when I was playing an Eric Clapton CD and my nine year old daughter heard it and said "Dad's getting good on the guitar". These DVDs are great for beginners and intermediate guitar players. Five Stars for Evan, I can't wait until the next DVD comes out!


Bob Schroeder

Click here for more Testimonies!